Corporate Profile
Tilray is a global pioneer in the research, cultivation, production and distribution of medical cannabis and cannabinoids. Tilray was the first licensed producer of medical cannabis in the world to have its facility Good Manufacturing Practices (GMP) certified in accordance with European Medicine Agency (EMA) standards.
The company currently serves tens of thousands of patients, physicians, pharmacies, governments, hospitals, and researchers in eight countries spanning four continents through its affiliated entities in Australia and New Zealand (Tilray Australia New Zealand Pty Ltd), Canada (Tilray Canada Ltd), Germany (Tilray Deutschland GmbH), and Portugal (Tilray Portugal Unipessoal Lda).
More information on the proposed TLRY + APHA Merger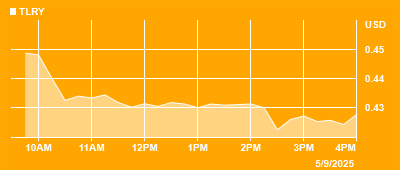 Data Provided by Refinitiv. Minimum 15 minutes delayed.
Events
May 19, 2021 at 8:40 AM EDT
May 11, 2021 at 9:30 AM EDT
Feb 17, 2021 at 5:00 PM EST